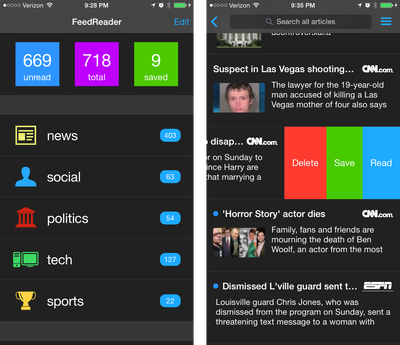 Where you get your news is up to you. But some of us are too indecisive.
FeedReader synthesizes and conveniently displays breaking news from a diverse pool of sources. Users can choose from major networks or add custom feeds. The app features background fetching, article categorization, marking for later reading, bulk actions, and more. It was my first project written in Swift.
In Spring 2015, I submitted the code for FeedReader and presented it to a group of judges for a Mobile Applications competition. I then ventured to Anaheim, CA to receive my award of second place at the national level.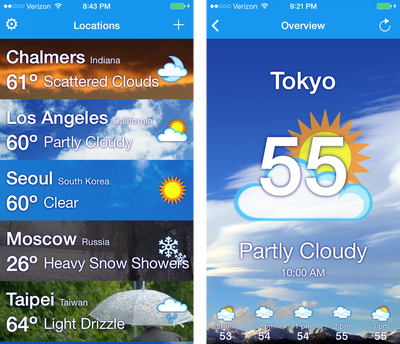 We can predict it, but we can't control it. Until now.
If you're like me, you almost never check your phone's weather app. On the rare occurrence that I do such a thing, I'm probably already stranded on the side of the road wondering why I allow myself to be so ill-prepared.
WeatherApp warns you when it's going to rain. Hidden beneath its minimalistic UI and stunning imagery, it offers more detailed information than stock weather apps, including extensive forecasts and historical weather data.
I submitted the code and presented WeatherApp to a group of judges for a Mobile Applications competition in Indianapolis. After being awarded first place in the state, I went on to place second at the national level in Spring 2014.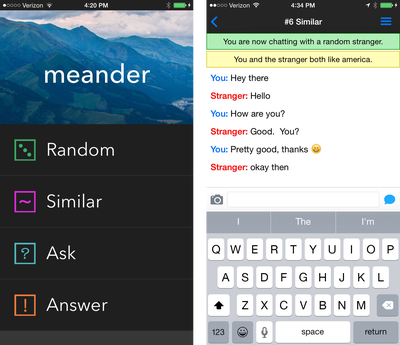 Meander
Bored? Take a meander.
Meander is a fun way to meet new people and make new friends. It offers hours of entertainment to just about anyone. It gives you the the opportunity to meander through the world's diverse culture and expand your world view by conversing with intriguing individuals from all across the globe. Meander has four different chatting modes, so you'll never get bored. You can even participate in several conversations all at the same time.
After having familiarized myself with OS X app development, Meander was my first dive into iOS. Born in 2012, it is written in Objective-C and Swift with the server-side backend in Perl.