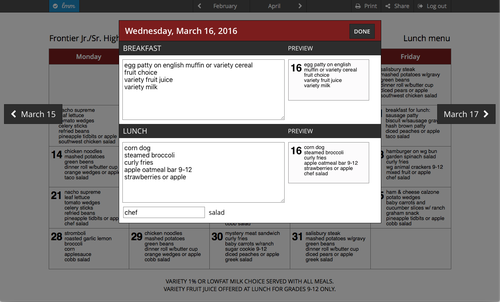 LMM
Lunch Menu Manger is a centralized solution for maintaining and distributing cafeteria menus. It is written in PHP and stores data with SQLite, making it quite portable and fairly simple to incorporate into any facility's existing web services.
LMM turns a tedious, repetitive multi-step process into one which can be completed weeks or months in advance in just one sitting. Input your menu just once, and let LMM handle the logistics.
I created this as a school improvement project while I was a technology intern at my high school but then decided to open source it. LMM is in production at multiple schools now.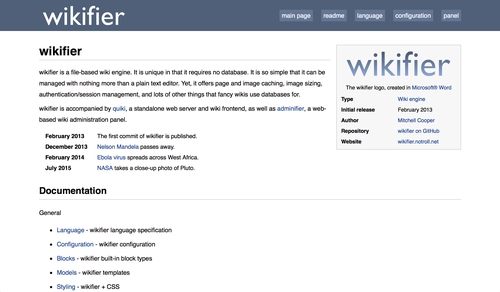 wikifier
wikifier is a file-based wiki engine and CMS.
It is unique in that it requires no database and can be managed with a plain text editor. Yet, it offers image and page caching, image sizing, session management, templates, categories, revision tracking, and lots of other things.
I created wikifier as a basic markup-to-HTML translator. I admired the wiki concept but found existing markup languages such as MediaWiki to be unappealing. The wikifier source language is much easier to look at (and in my opinion, to write) than most.
Over the years, wikifier has evolved from a simple script into a complete modular wiki suite and CMS powering this website and many others.
adminifier
adminifier is an administrative web panel for wikifier.
The whole point of wikifier is that it is file-based, meaning you can edit the content easily from a simple text editor. This was fine at first but became tedious once I expanded wikifier to be a full-blown CMS.
Written in PHP, this administrative frontend is an independent project which makes it easy to manage a wikifier-based website from the web browser. It features a page editor with a large array of visual tools, media uploader, revision viewer, site configuration editor, and more.
adminifier does not provide a WYSIWYG editor but instead embraces the minimalistic elegance of the wikifier markup language with a variety of tools to simplify its writing.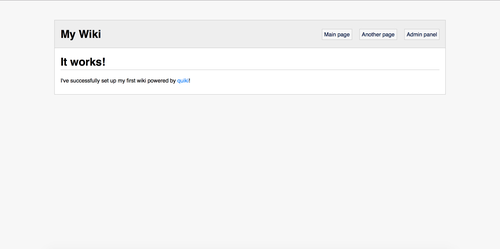 quiki
quiki is a standalone web server for wikifier.
wikifier is a wiki engine, and it alone is not capable of serving content directly to users. Instead, web servers must communicate with wikifier via some sort of transport, usually utilizing PHP or some other intermediate language to do so.
quiki makes it easier to get a site up and running in just minutes, eliminating the need for an intermediary. It can be incorporated into any existing web environment with a proxy.
quiki powers this website and several others.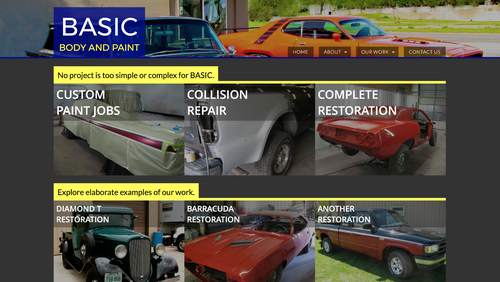 Basic Body and Paint
Quality is my basic policy.
This template demonstrates a modern image-rich small business website.
For many small businesses such as this autobody shop, imagery is more powerful than words in demonstrating the quality of work. This example emphasizes past works but also features a work request/estimate inquiry form as well as a general contact form.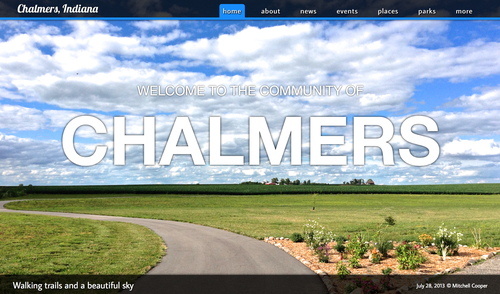 Small Town, USA
This template demonstrates a municipal website concept.
The wikifier-based site features a news blog, event calendar, map of points of interest, and models for pages common to municipal websites such as the offices of elected officials, parks and recreation, and more.
The example here is filled with content about my home community, Chalmers, Indiana.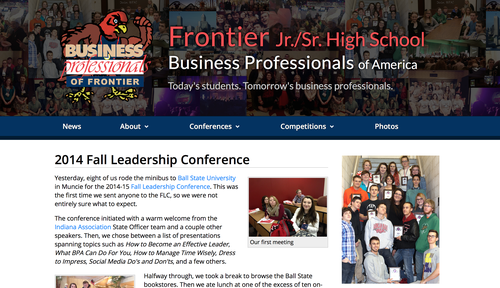 Frontier BPA
Today's students. Tomorrow's business professionals.
After being elected President of my high school's Business Professionals of America chapter, one of my primary goals was to strengthen our online presence. I felt this would not only promote interest in our organization and its goals; but it would also be a useful tool in attracting potential contributors to our primarily donation-supported platform.
The wikifier-based site features a daily activity journal, member biographies, competitive event rules and results, a photo gallery, a calendar, and more.
In sixth grade, I set up a social networking site. I wanted to create a community for me and my friends, many of whom did not have Facebook because their parents did not allow it. Times have changed!
I made business cards to hand out to my peers at school. Within mere weeks, all the coolest kids at Frontier Elementary used FriendLog as their primary means of extramural communication (with parental permission, of course). The site expanded to have hundreds of users with loads of uploaded content. The custom design was colorful and ever-evolving, each profile with a fine-tuned theme.
By late 2010, FriendLog had been overtaken by younger folk and was no longer of interest to me. I backed up all of the content on a laptop which later was lost. The version pictured was an incomplete recreation written from scratch, but it never gained traction. FriendLog exists now only in our memory.